Dear Sutherland Elementary Parents and Guardians,
Sutherland is in its third year as a School-wide Title I school. As a School-wide Title I school, we are able to receive additional resources, programs, staffing, and training to benefit all students. Having School-wide status helps us provide high quality reading instruction for all students to generate high levels of academic achievement. This means any student who could benefit from additional assistance using Title I resources, whether for a two week skill group or a year-long remediation plan, will receive the support needed.
Mrs. Johnna Carter and Ms. Magen Moore are Sutherland's Title I Reading Interventionists who coordinate the school's comprehensive  literacy program. Mrs. Carter has been a Dinwiddie County educator for  21 years serving the last eleven as a Title I Reading Interventionist. Ms. Moore  has also dedicated 18 years to teaching in Dinwiddie, eight as a Title I Reading Interventionist at Sutherland. They both meet the 'highly qualified' status with Master's Degrees Endorsed in Elementary  Prek-6. Mrs. Carter and Ms. Moore are very passionate about reading, dedicated not only to preparing their students for the rigorous state standards, but also in nurturing confident, lifelong readers. 
Parents are an integral part of Sutherland's Title I Reading program . We encourage involvement from all families.  Please encourage your child to read to you or with you 15 minutes each evening. Practice does make better readers! We also recommend reading to your child (yes, even to those 4th and 5th graders)! Reading to your child is a great way to expand  vocabulary, model good reading, and work on comprehension skills! 
We are always available to answer questions and offer suggestions. Parental input at Sutherland is greatly appreciated too. Check out Sutherland's website https://sut.dinwiddie.k12.va.us/ and complete the Title I  Survey–Your Voice Matters.
Working together we can promote a love for reading in our children!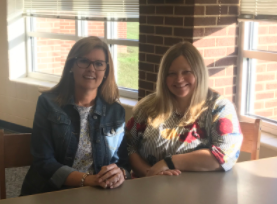 Johnna Carter                            Magen Moore
jcarter@dcpsnet.org                  mmoore@dcpsnet.org